Menjelang tutup tahun, kita coba review beberapa buku yang kita baca tahun ini. Mungkin tahun ini memang terlalu banyak diisi kegiatan ekstra padat yang bahkan membuat tahun-tahun sibuk sebelumnya tampak penuh keleluasaan; dan buku-buku yang dibaca pun jadi berkait dengan kegiatan-kegiatan yang menarik ini.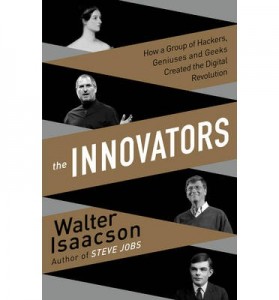 The Innovators, adalah kisah tentang para genius yang menciptakan dunia informasi seperti yang kita kenal saat ini. Walter Isaacson (yang sebelumnya menulis tentang Steve Jobs dan Albert Einstein) bercerita tentang inovasi bukan hanya sebagai proses yang terkontrol; melainkan sesuatu yang dibentuk dengan latar belakang kepribadian, tekad, gagasan yang luar biasa, kerjasama yang menarik dari pribadi yang sungguh beraneka atau bertolak belakang, dan lompatan-lompatan kreatif. Ada Lovelace misalnya, digambarkan bukan sebagai putri yang dibesar-besarkan sebagai programmer, melainkan dirinci sejak ibunya menjauhkan dia dari urusan seni dan membuatnya menyukai pikiran kreatif yang logis, pergaulannya dengan para hacker masa itu, dan seterusnya. Lalu kita dibawa ke nama-nama revolusioner seperti Vannevar Bush, Alan Turing, John von Neumann, Doug Engelbart, Robert Noyce, Bill Gates, Steve Wozniak, Steve Jobs, Tim Berners-Lee, hingga Larry Page. Intinya bukan nama-nama besar ini, melainkan penggalian yang seksama untuk memungkinkan kita menjadi inovator-inovator kelas dunia berikutnya.
Smart Cities. Buku ini memang dibeli setelah mendalami banyak paper IEEE tentang pengembangan smart cities. Pertama, kenapa kita malah berfokus ke kota? Secara pragmatis, menata kota adalah menata peradaban. Bumi justru mungkin bisa lebih hijau saat manusia dikumpulkan dalam ruang dengan efisiensi sumberdaya yang tinggi, dengan kolaborasi yang sangat mudah dan massive, dan optimisasi pada gagasan-gagasan hijau. Tapi ini hanya mungkin terjadi saat kota ditata dengan daya informatika yang menyeluruh. Persoalannya bukan hanya soal akses internet di layer infrastruktur, platform, aplikasi, konten; tetapi bagaimana budaya dan gaya hidup mulai diarahkan. Apa yang mungkin bisa terjadi? Bagaimana ekses negatifnya? Bagaimana menjawab tantangan itu? Dan apakah pembentukan smart cities akhirnya benar-benar akan mengubah peradaban dunia demi masa depan bumi yang lebih baik? Konon, orang yang bernama Smith cenderung suka jadi ahli metal; orang bernama Dentist suka mengurusi gigi. Itu diakui Wiseman yang ternyata memang suka mencari kebijakan dalam hidup manusia secara ilmiah. Tapi apa itu sebabnya buku Smart Cities ini harus ditulis Anthony Townsend?
Quantum Networking. Dari minggu-minggu awal kelahirannya, blog ini cukup sering membahas efek kuantum di sisi sains. Namun satu dekade kemudian, efek kuantum benar-benar mulai dapat diaplikasikan dalam dunia engineering, termasuk di sistem informasi. Quantum computing, quantum information, quantum networking. Di kuliah IEEE, aku sering menyebut tiga layer masa depan skala menengah: quantum networking, Internet of Things (termasuk big data), dan smart cities. Quantum networking memungkinkan terobosan informasi kapasitas tinggi dan kecepatan tinggi untuk masa depan. Segala pardigma informasi, sejak kalkulasi Shannon, persoalan enkripsi, sensitivitas, berubah sepenuhnya; dilengkapi hal-hal semacam teleportasi dan sistem distribusi yang saat ini belum terpikirkan aplikasinya. Buku mengenai quantum networking yang baik sangat sulit diperoleh. Aku beruntung sempat berkenalan dengan Prof Rod van Meter, seorang periset mutakhir di bidang ini di COMNETSAT, salah satu konferensi yang disponsori IEEE Indonesia Section. Beliau jenis ilmuwan yang rendah hati namun sangat inspirasional, serta mampu memaparkan quantum networking kepada para engineer secara jernih tanpa berbelit.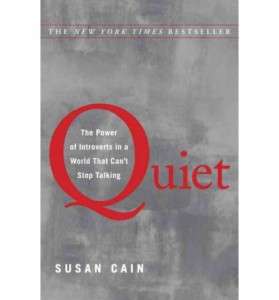 Quiet. Ada sih manusia yang memang cerewet, suka mendengarkan opera bising yang membunyikan hampir semua alat musik sekaligus, suka menggabungkan kegiatan berbagai komunitas, suka mempresentasikan gagasan yang belum mainstream ke kelompok orang serius tak dikenal. Dll. Tapi di tempatnya bekerja, ia dinyatakan cacat, tidak lulus ke dalam kelompok orang-orang penting akibat mendapatkan sertifikat "introvert akut" oleh para assessor (dua point di bawah standar yang diperkenankan perusahaan). Wkwkw, ada. Buku Susan Cain ini menyelamatkan orang-orang semacam itu dalam memilih: apa sih hal baik yang masih dapat dilakukan kaum introvert ini. Konon para introvertlah yang membentuk dunia: mengenalkan kita pada teori relativitas; bunga matahari Van Gogh — hmmm, ya, Van Gogh; komputer Apple, apalah. Tapi dunia yang nyata digerakkan oleh para ekstrovert yang secara alami menyusun kerjasama yang dinamis di dunia yang makin kompleks ini. Kaum introvert harus menyesuaikan diri. Bisa berhasil, namun dengan kelelahan psikologis yang lebih. Lalu bagaimana kaum introvert bisa memaksimalkan potensi dirinya? Aku yakin para introvert lebih suka membaca buku ini dalam heningnya, daripada membaca point-point di blog dalam keriuhan kota.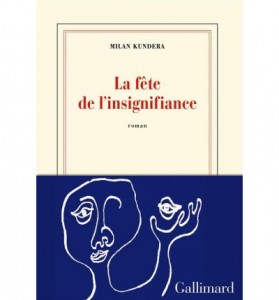 Milan Kundera bikin buku lagi. La Fête de l'Insignifiance. Belum terbit bahasa Inggris atau bahasa Indonesianya. Dan aku belum berhasil menamatkan buku ini juga. Tapi, coba kita seriusi hal ini: seriuskah dunia ini? Terpikirkah bahwa justru masalah paling serius harus dikaji secara tidak serius? Nikmati rayapan gelombang interaksinya, dan dengan demikian pahami hakikat pembentuknya. Rayakan hal-hal yang tidak penting! Mungkin ini bukan hal baru buat para pecinta Kundera. Buku sebelumnya, Kitab Lupa dan Gelak Tawa (Le Livre du Rire et de l'Oubli) memaparkan diskusi para penulis dunia bukan dengan cara yang elegan, namun justru dengan kekacauan yang menjemukan, dan dengan demikian menjelaskan dunia apa adanya. Buku Unbearable Lightness of Being (L'Insoutenable Légèreté de l'Être) memaksa kita merasakan bahwa hidup jadi beban justru karena ia ringan melayang; plus rangkaian pendefinisian kontekstual atas makna-makna dan simbol-simbol yang membuat kita mempertanyakan hal-hal yang kita anggap besar dan penting. Tapi ringan bukan berarti lucu. Lucukah saat kita menyadari bahwa rasa humor kita bersama sebenarnya tak menarik lagi? Apa coba?
Masih ada beberapa buku lagi. Bersambung ah. Jalan-jalan dulu membersihkan diri. Kamu sendiri, suka baca apa akhir-akhir ini?